Allocate Chronic Kidney Disease Levels
Key Action:

To allocate a level of clinical risk (stage) to those patients with CKD and manage according to its stage.

Healthcare Initiative Program:

Chronic Disease Management – Early Detection and Prevention

Disease Area:

Chronic Kidney Disease

Category:

Chronic Disease Management

Description:

Patients with chronic kidney disease are allocated a Stage (1-5) based on their calculated e-GFR and Urinary Albumin to Creatinine ratio (ACR) and based on this renal disease stage are allocated to an action plan (Yellow, Orange or Red) with a series of tasks for each category.

Filter Description

CKD Stage is greater than Normal.

AND

(

There are no vales for Renal CKD Stages 1 through to 5

OR

Renal CKD Level 1 and the CKD Stage is greater than 1

OR

Renal CKD Level 2 and the CKD Stage is greater than 2

OR

Renal CKD Level 3 and the CKD Stage is greater than 3b

OR

Renal CKD Level 4 and the CKD Stage is greater than 4

OR

Renal CKD Level 5 and the CKD Stage is Greater than 5

)
Business Case:
The business case is that using this Taskflow allows GPs and practice staff to better manage patients through improved tracking of patients in the preventive care cycle, allocation of tasks (e.g. completion of the action plan over 12 months), and the ability to monitor and report on task progress and outcomes. This also provides an additional layer of safety over care and the ability to generate reports to examine the quality of care provided.
Clinically, it provides information to the treating GP at the point of care and relevant to the clinical problem or question based on evidence based clinical guidelines.
Professionally it provides support for GPs and practice staff to provide a more efficiency service for patients including the use of technology to improve communication with patients on their condition and preventive checks.
Financially the use of the DCP allows patients to be identified who require diagnostic or management services based on their level of clinical circumstances which can be provided by the practice or other health practitioners (practice based or Chronic Disease item number based).
Key Decision Points: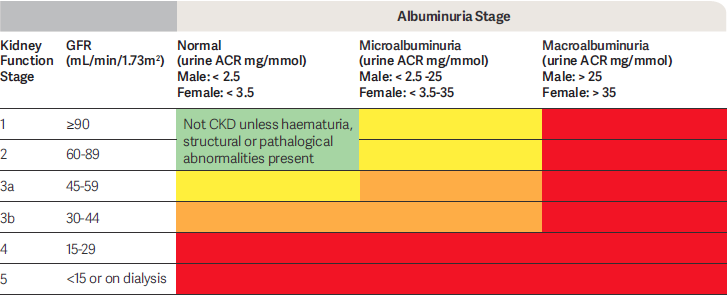 Figure 1 – Stages of CKD Table